20 Years of Glamour: Dansesport Montreal 2018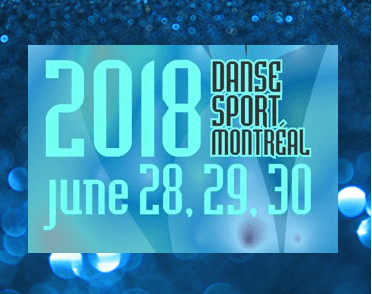 The sun is shining, the weather is warm, and summer is here (finally), and...it's time for the 20th edition of Dansesport Montréal.
OH YEAH.
So brush off your dance shoes, put on your rhinestones (all of them), and show us what you've got. Because this year is big big BIG. And it's all about YOU (as it should be). Read on to find out all the details!
THE ORGANIZERS
Dansesport Montreal is organized by none other than Canadian dance legends Pierre Allaire and Mireille Veilleux. They are 12-time Canadian Professional Ten-Dance Champions, Canadian and North American Professional International Latin and Standard Champions, and Open British Open Professional Rising Star Latin Champions!

Together, Pierre and Mireille have been choreographers on So You Think You Can Dance Canada. They've won the Feather Award for "Most Outstanding Couple Outside USA", the "Legends Of Dance Award", and the Can-Am Dancesport "Special Achievement" Award. They are the owners of Studio 2720 in Montreal, Quebec and organizers of not only Dansesport Montreal but also Dansélite. This year, they are excited to host the most special edition of Dansesport Montreal to date in celebration of its 20th anniversary.
THE EVENT
This year Dansesport Montréal will be taking over the city on June 28, 29, and 30 at the Hyatt Regency Hotel in the heart of the city's entertainment district. Competitors and spectators will be a chassé away from fabulous restaurants, outdoor concerts, a happening night life (this city doesn't know the meaning of the word "sleep" in summer, I kid you not), and beautiful places to walk down in the Old Port. Oh. And our world-renowned Jazz Fest begins Thursday June 28th. It's Montreal in the summer. Do we really need to say anything more??
So if this city wasn't enough incentive, let's talk about the competition. LET'S TALK.
Dansesport Montreal is an international WDSS (World DanceSport Series) event. The WDSS is a network of over 90 Dancesport events held throughout North America, events which include La Classique du Quebec and the Tulip Classic in Niagara Falls. It's a competition focused on Pro-Am and all the ooh-la-la you could ever want!
This year, the competition will run from Thursday, June 28th through Saturday, June 20th. Thursday's show will star Pro-Am Rhythm dancers in closed and open as well as International Ballroom in closed. The Professional "Rising Star" competition in all four styles will end the day with a bang. Friday showcases Pro-Am Smooth (closed and open) and Pro-Am Ballroom (open)...as well as the Pro-Am Showdance numbers. Amateur couples will take to the floor in the late afternoon/evening. And last, but certainly not least, Saturday showcases Pro-Am Latin and Amateurs and Juveniles. And the pro show. With World Champions Arunas Bizokas and Katusha Demidova.
...sorry. I needed a minute to calm down. More on them in a minute!
So all that said...what are you waiting for? Get your tickets and come spectate. Or better yet -- participate. You know you want to.
THE VENUE
The Hyatt Regency Hotel. Dancers, after a long day on the floor...they have a spa. I don't know about you, but I'm sold. Especially when my feet decide they simply will not fit into my dance shoes again and it's going to be flats or bust.
What else could you want to know? There's a gym, an indoor pool, a steam room and sauna, a terrace with a bar and food (this seems like an important point...post-comp celebrations anyone?), and a restaurant. Or if you only want a quick bite to eat, the hotel is situated in the Complexe Desjardins which features a food court with everything from fast food to multi-cultural cuisine. And of course, you're a triple step away from some very fine restaurants just outside the hotel doors.
ARUNAS AND KATUSHA
At the age of seven, Katusha Demidova's father took her to the local community center in Moscow to begin ballroom dancing lessons. By the time she was sixteen, she had decided she wanted to be a professional dancer and began to compete in standard. Not long after turning professional and competing worldwide, she moved to New York City to further her career as a pro dancer. She partnered with Jonathan Wilkins and they competed together for 12 years, winning many championships, before deciding to end their partnership.
Arunas Bizokas (Lithuania) began dancing at the age of seven, thanks to this mother who had a love for ballroom dancing. While he tried many sports as a child, it was dancing that held him. At the age of thirteen he partnered with Edita Daniute and together they had a an extraordinarily successful career in juniors, youth, and amateurs. At only nineteen, Arunas and Edita made their first finals in the European and World Amateur Championships. It was after becoming World Amateur Champions, as well as winning many more titles, that they decided to end their partnership. After taking some time off, Arunas asked Katusha to partner with him in 2007. The rest, as they say, is history.
Together, Arunas and Katusha have taken the world of professional ballroom by storm and are considered by some to be the best of all time. After dancing together for less than two years, they won their first World Champions title in September of 2009. After ten years together they are at the top of their game, reigning International, UK and British Professional Ballroom Champions...and at Dansesport Montreal, they'll be performing for you.
ILOVEDANCESHOES
Of course we're going to be there. You think we'd miss it? We're going to be there for all of it and we'll have our collection with us -- we have all the shoes you could ever need for professionals and beginners. Competition, practice, or even a night out -- we've got you covered. Here's just a glimpse of some of our most popular models:
Kristen
Garland
Adam
Aster
Come visit us at our booth! We're looking forward to helping you find that perfect pair of shoes that will help showcase your dancing.
So that's Dansesport. You're coming, right? Right. That's what I thought.
We'll see you there.