iLoveDanceShoes Heads to Madessimo Madness 2019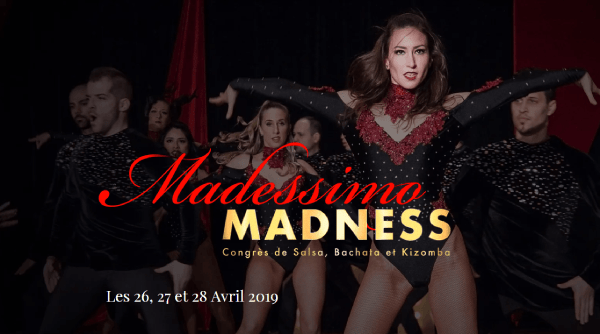 Do you love Salsa, Bachata, and Kizomba? Then get ready for the hottest event this month: Madessimo Madness, from Friday, April 26th to Sunday, April 28th.
Born in 2011, Madessimo Madness started out as a small event at l'Auberge du Château Bromont with around 150 people -- but by the following year the number of attendees had already doubled in size. The following years were sold out which prompted the search for a larger venue in order to attract more dancers. So for the past three years Madessimo Madness has been held in beautiful Orford at the Hôtel Chéribourg. This is a weekend packed with workshops and shows and dancing with some of the hottest artists and DJs in the business. And it's open to all levels -- from beginners to advanced dancers, you will find workshops to suit your needs and help you take your salsa dancing to hotter levels.
Each night also has a theme for attire -- ranging from chic leather boots and hats to pyjamas, so make sure your check out the website for what to wear on which night. And as always, don't forget your dance shoes -- dance nights run until 3:00am. Who needs sleep when there's salsa???
And if you're feeling sore, there will be massage therapists on hand to help you relax. Foot baths will also be available. Rest your feet then hit the floor again. Because salsa.
And because salsa, we'll be there for all of it. Want new latin shoes? We've got you covered. Here's when you can find us:
Friday, April 26th: 6:00pm to 11:00pm
Saturday, April 27th: 10:00am to 11:00pm
Sunday, April 28th: 10:00am to 4:00pm
We can't wait! We're looking forward to seeing you there.
For more information about Madessimo Madness, please visit their website:
https://www.madessimomadness.com