La Classique 2018: It's Time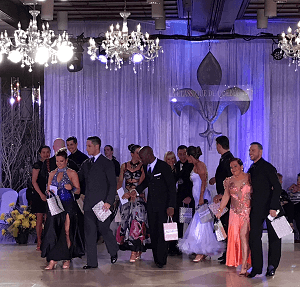 Grab your shoes and your sparkle because it's almost time for La Classique! February 15th to 18th the crème de la crème of ballroom (i.e. you) will be competing at Hotel Bonaventure in downtown Montreal, Quebec. And iLoveDanceShoes cannot wait.
In fact, we're so excited that we're sponsoring two Pro-Am Championships: International Latin and International Standard. This will be the third year in a row we've sponsored at La Classique.
And even if you're not competing, this is a competition like no other. Dancers will be setting the floor on fire all day for four days. That being said, there are some highlights to the schedule. Thursday, February 15th is the biggest day in the schedule, with the big Pro show by Slavik & Karina at 22h45, preceded by the Professional Rising Star Championships. Friday, February 16th will have Solo Exhibitions in the morning and Professional Championships in the evening. These are the biggest days, but trust us -- you won't want to miss anything.
For all the up-to-date details about the schedule, visit: http://www.laclassiqueduquebec.com/index.php
And on the subject of details, here are some other things you should know:
The Hotel
Hotel Bonaventure is located in the heart of downtown Montreal, Quebec, one of Canada's most beautiful cities. It's a lindy hop away from the Old Port, museums, and great restaurants. It's right across from the Gare Central and the orange metro line which makes inner-city travel a breeze. And it has a heated outdoor pool. Need we say more?
The Event
Founded in February 1977 La Classique is a World Dance Council (WDC) ranking event and open to professionals, amateurs, pro-am, seniors, and juniors in both International and American Styles. New this year is the International Amateur same-sex division.
And this year's pro-show stars none other than Karina Smirnoff and Slavik Kryklyvyy. Karina Smirnoff began competing in ballroom dance at the age of 11 and she is a five-time U.S. Professional Latin Champion, World Trophy Champion, and Asian Open Champion. She has also won multiple titles at the US Open, Asian Open, Dutch Open, and UK Open. She has taken second at Blackpool and she is the first woman to ever make the British Professional Latin Final with three different partners.
Slavik Kryklyvyy began dancing at the age of 11 in Ukraine. He is a World and Blackpool Amateur Latin Champion, a 5-time United States Professional Latin Champion as well as a Silver Medalist of the World and Blackpool Professional Latin Championships.
Karina and Slavik danced together from 2000-2005 and became five-time U.S. Professional Latin Champions. They split in 2005 but reunited in 2014 to the everlasting delight of the dance community and now perform together around the world. And now they're about to set the floor on fire in Montreal. This is a show you must see.
iLoveDanceShoes will be there to share in the excitement, the sparkle, and the ooh-la-la. We'll be there with a booth throughout the entire competition, ready to answer your questions...and with an array of the most stylish and comfortable dance shoes for you try on. We'll see you there!