You Can Never Have Too Many Dance Shoes!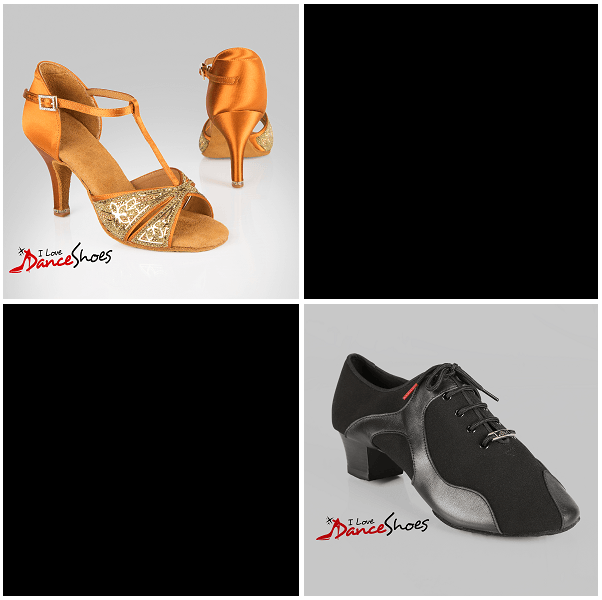 You can never have too many dance shoes, am I right? Of course I am. And that's why iLoveDanceShoes is so excited to present our new products! This month we're debuting our new models for men and women in ballroom and latin dance. To check out these beauties, keep reading!
Note: to go to the product page, simply click on the product image.
For the ladies:
LATIN
The Countess
The Countess is here. Announce your presence on the floor with this stunning aristocratic look. Made from satin and suede, the t-strap provides stellar support for long wear and the inner cushioning ensures maximum comfort. The gold wrap-around is soft and flexible and molded to your foot. You'll be sure to dazzle the audience and the competition. The floor awaits, your grace.
The Royal
When dancing, always remember your crown. And the Royal Latin shoe is already crowned (in case yours is at the cleaners)! A classic look with the added gleam of rhinestones will let the competition know you've arrived. This peep-toe shoe offers comfort, beauty, and stability, and the t-strap provides excellent support to the ankle and foot. Spin away in style, your Highness.
The Scarlett ( on special request only)

Frankly, my dear, you will turn heads in the Scarlett. Crafted of silk and bejweled in rhinestones, all eyes will be on you. The wrap-around strap can we worn in multiple ways, offering maximum comfort, stability, and style. Bring the sparkle and the fun with you wherever you go.
BALLROOM
The Flame ( on special request only)

Burn up the floor in style with the Flame, the newest addition to the iLoveDanceShoes ballroom collection. A classic look but one certain to make an impression with its silver flames sweeping over heel and toe. The jeweled buckle provides additional support to ensure the shoe moves with your foot so you can pivot and swivel with ease.
For the gentlemen:
BALLROOM
The Rhett
Designed by world champions, the Rhett is a men's ballroom dance shoe that will allow you to take your dancing to the next level. The Rhett is a classic design featuring a split sole for maximum flexibility.
LATIN
The Duke
Announce your presence on the floor with the Duke, a Latin shoe crafted of canvas and stylish leather accents -- a design unique to iLoveDanceShoes!