If the Shoe Fits…: Choosing Practice Shoes & Heel Height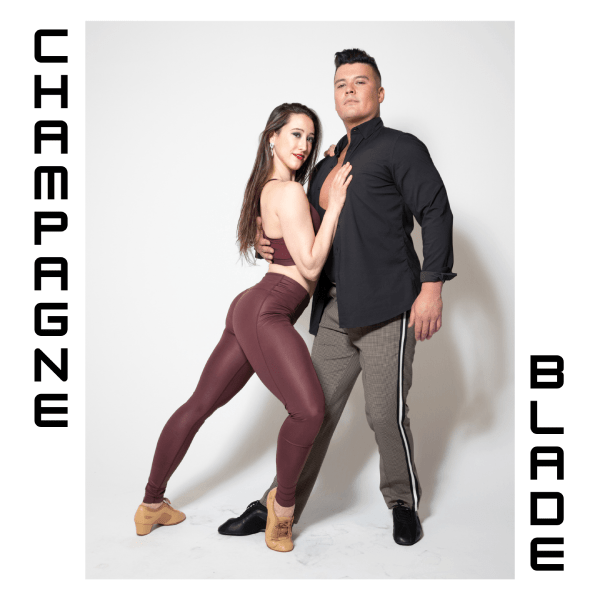 So. There is a difference between your first pair of dance shoes and your first pair of practice shoes. If this sounds confusing, let me give a personal example:

When I first started dancing, I bought a pair of sparkly silver dance shoes with a 1.5" heel. They were beautiful. And when I was dancing twice a week (one private lesson, one beginner's group class), they were fine. But then I started dancing more…and more…and very quickly became a studio mouse (1). Long story short, a) I wore them out and b) not being used to wearing heels on a regular basis, much less dancing in them…it contributed to some back issues I developed (2).

At this point, I discovered the world of PRACTICE SHOES. And their importance. I also discovered the importance of heel height. So if you are just getting into dancing, let us help you make the right choice!

As with any sport, if you are going to spend hours and hours practicing then you should have the right equipment. A pair of practice shoes will not only save the wear and tear on your competition/performance/regular dance shoes, but are usually tougher and crafted to last for years of hours on the floor. For example: my practice shoes for group classes are the Blade unisex practice shoes. I wear these for 45 minutes to 1.5 hours 3 to 4 times a week and they are the most comfortable pair of shoes I own. The low heel means they're easy on my back and the suede soles ensure I can grip and slide the floor the same way I would in my competition shoes. They're a miracle.
I love the Blade so much I even had to 'gram them:


FIT

Unlike street shoes, practice shoes must fit snugly – your foot should not be moving around and you should not need insoles or heel grips to make the shoe fit (4). This is as much for ease of movement as it is for safety. If your foot is moving around in the shoe you are more likely to twist or strain something as a result of improper movement. The shoe should feel like a part of your foot. It should move with your body. If your foot slips, the shoe is too big. Conversely, your foot should not feel squashed. Your toes should have room to move gently which is why many practice shoes have rounded toes.

When trying on a pair of practice dance shoes, walk around the room to feel for pressure points or areas that rub. These are shoes you will spend hours in. Make sure they're comfortable.

STYLE

There are many different styles of practice dance shoes, from dance sneakers to shoes that more closely resemble competition dance shoes. Choosing the right style will depend on what you are comfortable with. If you are not used to wearing heels, a dance sneaker is probably more the way to go. One example here is the Grayson for ladies and gentlemen:
These shoes are a cross between a jazz shoe and a ballroom dance shoe. They have a 1-inch Cuban heel and are made of mesh and canvas, which make the shoe ridiculously comfortable and breathable. Also of note, the Grayson, Zinnia, and Agile practice shoes are suitable for outdoor activities since the sole of the shoe is not suede. There is, however, a special swivel patch on the ball of the foot to ensure you can still pivot and move as necessary. These are ideal for hours of repetition as well as outdoor dancing. For shoes that more closely resemble competition dance shoes in shape, sole, and heel, some examples are the Fantisia (first) and the Magnific (second) for women, and the Jacinto for men.

Fantisia
The Fantisia and the Magnific are made of soft lamb leather and can be customized to the colours of your preference. They also have the suede sole found on regular dance shoes that enable the right amount of slip-and-slide on the ballroom floor. Also of note about the Fantisia, is that the Cuban heel is easier for those who have back problems (like me) (5). This point will be discussed a little later. The Magnific has a solid sole and elegant slim heel for a stylish look while providing superior comfort and support. The heels can be customized as well. So if you're not a fan of the thinner heel, you can choose a 1.5-inch Cuban heel as well.

The Jacinto is made of patent leather and spandex which makes it extraordinarily flexible. It has a 1-inch heel and can double as a performance shoe as it has a suede sole.

SOLE

Sole is important. Some models have a solid sole, such as Magnific, Practicia, Chloe, and Elegante. A solid sole will offer more support. A split-sole will offer more flexibility, while maintaining the stability and comfort you require as a dancer. The Fantisia, for example, has a split-sole design. This is a traditional teaching and practice shoe, which can be worn for many forms of dances including Ballroom, Latin, Salsa, and Ceroc.

HEEL HEIGHT

This matters. Trust me. If you are not comfortable or accustomed to wearing heels for long periods of time, do not buy a practice shoe with a high, thin heel. There is a world of difference between walking and dancing in heels. And as it happens, you have options! Cuban heels are the steadiest type of heel you can buy, for ladies and gentlemen. They are a "block heel" and generally don't run higher than 2-inches. These offer maximum stability and are excellent for those with back problems as the block-style does not put as much pressure on the spine as a thinner heel. New dancers especially should practice in a lower heel until they are comfortable with the movements. You can always graduate. Speaking for myself, I do my private lessons in the Practica which has a 2-inch Cuban heel. Before a show or competition, I will take a lesson or two to practice in my competition dance shoes. You should never compete in a shoe you haven't worn and in a heel you haven't tried.

Dance shoes are made for dance and thus offer the support needed for your arches, ankles, knees, legs. Your practice shoes are the shoes you will live in and should be the most comfortable pair you own (6). At iLoveDanceShoes we know how important this is – so let us help you to make the right choice.
Forget capes. Dancing in heels of any height is a superpower. Which makes us all superheroes. Time to suit up.

See you on the floor.


(1) Basically, I live there now. Please forward my calls.

(2) For more on that story, please see the following article: Coping with an Injury: Suck it Up and DANCE Also, I have chronic back issues so my situation is unique to me. Many ladies wear and dance in heels much higher than I can wear without a problem and power to them. This is a cautionary tale based on my own experience. But I learned! And I'm still dancing. See previous footnote about me being a studio mouse.

(3) Seriously. These shoes are amazing. I love them. Find them here:
https://ilovedanceshoes.com/collections/practice-shoes/products/blade-practice-and-teaching-shoes-womens
or here:
https://ilovedanceshoes.com/collections/teaching-and-practice-men/products/blade

(4) Orthotics are not discussed here.

(5) My shoe of choice for my privates is the Practica, in black: https://ilovedanceshoes.com/collections/practice-shoes/products/practica-teaching-practice-shoes

(6) Mine are. I kid you not.
3 comments