How to choose the right heel for your new dance shoes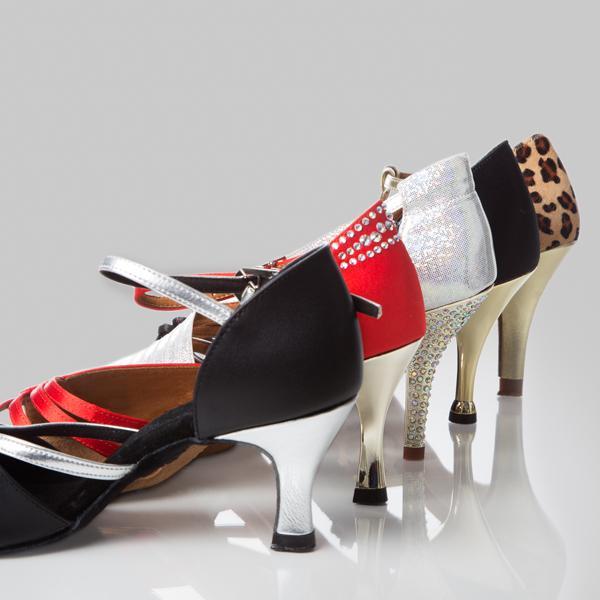 One of the benefits of ordering your dance shoes from iLoveDanceShoes is the ability to customize your shoe to be exactly what you need no matter your style or level of dance.
For women, heel style and height should depend on both the style of dance you do and your level of dance. On average, most women find 2.5" to be the most comfortable heel height for their dance shoes. Beginners should generally wear a more supportive, stable, and wider shoe while professionals wear very slim heels during competitions. Most beginners find a heel that is from 1.5" to 2" high to be easier to move around in while they learn. Flared and Spanish heels generally give more stability for beginners as well.
For practice shoes, dancers should wear shoes that provide support while allowing them to dance for several hours and move easily across the floor. Dancers often prefer a lower, wider heel for practicing. At iLoveDanceShoes, we have slim or pencil heels, flared heels, and Spanish or Cuban heels in a variety of heights.
Slim/Pencil Heel
Slim or pencil heels are the style of choice for ballroom and latin dancers since they offer excellent support and balance as the heel is centered perfectly while allowing for elegant toe points. They are available from 2.5" to 3" heights
Flared Heel
The flared heel is perfect for Latin and Standard styles of dance since they offer a great deal of support. The flared heel from iLoveDanceShoes is available from 2" to 4" for the more experienced dancer.
Cuban/Spanish Heel
Finally, the Cuban or Spanish heel is perfect for practice shoes, beginner dancers or children. These heels are great for dancers who find it difficult to dance on slimmer heels since they offer the most support of all of our heels. iLoveDanceShoes offers four options for Spanish heel heights.
Men's Heel
For men, we offer Cuban heels in both 1" and 2" heights depending on the style of shoe.