It Don't Mean a Thing (If It Ain't Got That Swing!) : Lindy Hop and the origins of East Coast Swing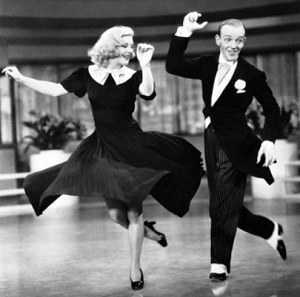 The air inside the club is smokey, the light is dim. It's 1936 and prohibition has just been lifted so the once-illicit alcohol flows freely. A jazz orchestra is on fire, trumpets wailing -- maybe it's even Duke Ellington himself --
and dancers are burning up the floor with the Lindy Hop.
Born in Harlem in the 1920s, the Lindy Hop
is a fusion of jazz, Charleston, tap, and breakaway. It combines the improvisational movements of African-American dances with the more formal six- and eight-count structure of European partner dances. The dance knew no boundaries as Harlem was a place for people of all colour, race, and social class to entertain themselves. Two places of note were the Cotton Club and the Savoy. Each had a slightly different clientele. The Cotton Club highlighted black entertainers and welcomed rich white customers, while the Savoy ballroom catered to a poorer demographic, largely made up of black men and women -- largely. The Savoy was one of those rare places where black and white people would mix on equal footing (1). And it was here that they burned up the floor with what would eventually become known as the Lindy Hop.
Friendly dance competitions and dance marathons began to emerge in American ballrooms, especially the Savoy (2), and it was during one such in 1927 that the Lindy received its name...quite randomly, as it happens. It in this year, on May 21st, that Charles Lindbergh successfully completed his 33.5 hour flight across the Atlantic ocean in a single-engine plane. The headlines read "Lucky Lindy Hops the Atlantic!" And it was during one of these dance marathons that a dancer was asked what they were all dancing. To which he replied: "The hop, The Lindy hop... We are flying just like Lindy did"(3). The name stuck.
As the 20s and 30s progressed and the stock markets crashed, the dance continued to spread and its popularity took the U.S. by storm...much to the dismay of many formal dance instructors. They referred to Lindy music as a "degenerated form of jazz, whose devotees are the unfortunate victims of economic instability"(4).
Well. The Depression ended. The Lindy did not.
Since people could not "cavort" in a formal dance studio, they turned to street teachers and independent studios. Thus, by 1942 even the most resistant instructor was forced to realize that the Lindy was here to stay (5). So they modified and structured the Lindy and added it to the syllabus, giving us our East Coast Swing (6).
So there you have it. In a nutshell. If you're curious to learn more detailed information about the origins of ECS and the Lindy, see the end of the article for references. And as someone who loves East Coast Swing...there is nothing like rocking out to a triple step. So we've got some suggested schools if you want to learn how triple-step with the rest of us who are swing-dance-obsessed!
Now put on your shoes and give me a kick-ball-change.
See you on the floor.
Notes:
Easy Swing: History of Lindy Hop

http://www.easy-swing.be/en/catalog/7-swing-history/55-history-of-lindy-hop/

The Savoy.

https://swing.appstate.edu/pagesmith/16

This whole article is wonderful.

Easy Swing.

"Origins of East Coast Swing".

https://swing.appstate.edu/pagesmith/19

By the mid 1930s the Lindy was also known as the Jitterbug. "Jitter" was jazz slang for alcohol so a "Jitterbug" was another name for someone who drank a lot. The dance earned its second name when Cab Calloway introduced a song of that name.

https://swing.appstate.edu/pagesmith/18

Fun fact: prior to the East Coast Swing, the Foxtrot was the swing dance in the Arthur Murray syllabus and the most popular in the 1930s.
References:
Appalachian University Swing Dance Club. https://swing.appstate.edu/
Easy Swing: History of Lindy Hop http://www.easy-swing.be/en/catalog/7-swing-history/55-history-of-lindy-hop/
Ithaca Swing Dance. http://www.ithacaswingdance.com/east-coast-swing.html
Where to Swing Dance in Montreal:
Arthur Murray (3 locations)
West Island Studio
49 Boulevard Brunswick
Dollard-des-Ormeaux, QC H9B 1P7
(514) 421-9710
amwestisland@gmail.com
Website: https://arthurmurraywestisland.com/

Laval Studio
1882 St Martin O #201
Laval QC Canada H7S 1M9
(450) 973-4050
info@arthurmurraylaval.com
https://www.arthurmurraylaval.com/
Jean-Talon Studio
4847 rue Jean-Talon O.
Montreal, Quebec H4P 1W7
(514) 733-3040
info@arthurmurraymontreal.com
Website: https://www.arthurmurraymontreal.com/
Cat's Corner
Types of dance offered: Swing, Blues, Lindy, Balboa, Charleston, Tap.
3451 St-Laurent 3e étage, Montréal
(514) 874-9846
info@catscorner.ca
Website:
https://www.catscorner.ca/en/
Studio 88 Swing
They offer Charleston, Blues, Rock n'Roll, Lindy Hop, Balboa, West-Coast Swing, Boogie Woogie...and more.
7243 St-Hubert Montreal, QC H2R 2N2
(514) 887-9464
info@studio88swing.com
Website:
http://studio88swingen.com/