On the Road Dance Nutrition: Guest Blog Post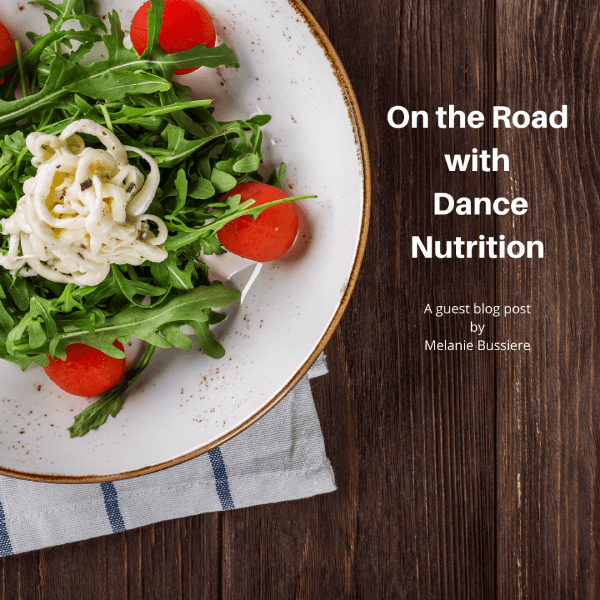 Dancers! Your body is your canvas and it's important to take care of it so you can dance your best. Melanie Bussiere of New Again Fitness has written some excellent posts on the subject so this month we're sharing her advice on competition nutrition and how to eat wisely while on the road.
***
When prepping for an athletic event, it's good practice to do some carb loading with a variety of carbohydrate types two days before. This is not an excuse to eat whatever you like and then claim that its carb loading. It should be from healthy sources! I am competing this weekend. Of course, I will only be on the floor for about 12 minutes at a time, but it is still important to have energy, and for this you should prepare in advance. High fat foods are not ideal in preparation for competition preparation, so you will see a slight a shift in my eating for the next few days. Here are some oats with peaches, cinnamon, nutmeg and sea salt. I have them with eggs and lots of water. Stay tuned for my food ideas on the road, because I have some good ones!
In keeping with my need to consume a variety of carbohydrates, I made these fruit and oat balls. They are made from plums, pears, sundried figs, lemon zest, lemon juice, and oats. There are no other ingredients and no preservatives. Nothing additional. It's like eating fruit with your oats, but much more tasty. I blended the ingredients and baked them on pans with olive oil. They were great on the road and I ate some chicken on the way. I have arrived at my destination already well fed and ready to go! I'll post some more details of my travel/competition nutrition as I go along.
People always ask me what they can eat when they go out with friends. This was my meal at Boston Pizza yesterday evening. A salad with peppers, beets, red onions, cucumber, cranberry, a little almond, a little feta, chicken and a vinaigrette. Not exactly the way I would make it at home, but still tasty. This morning I had oatmeal with walnuts and raisins, eggs, and potato with orange and grapefruit slices. I will nab a photo of the same meal tomorrow. Again, this is not exactly the way I would have it at home (there is probably some milk in the scrambled eggs), but it doesn't have to be perfect. I enjoyed it all and I am grateful for it!
We just arrived home from a long road trip. It's a perfect excuse to order out. It was faster, however, to stop off at the store for dill, arugula, tomatoes and a precooked chicken. I used the farmboy lemon garlic dressing (it's a clean dressing) for a little extra flavour! It's not difficult at all to eat well on the road and not interrupt your regular eating habits!
***
Articles and images used with permission. Originally written and posted 12 April 2019 on their Facebook page: https://www.facebook.com/NewAgainFitness/
Melanie Bussiere is CPR A, C and AED certified and is also a Certified Strength and Conditioning Specialist (CSCS), NSCA, and a Sports Nutrition Specialist. She is currently completing full certification in Trigger Point Therapy. She and her husband Lionel Doonan are professional ballroom competitors and teachers.

New Again Fitness trains clients for weight loss, muscle toning and strength, and improved mobility. They help clients prepare for and recover from hip and knee surgeries. They also address everyday aches and pains and ensure their clients leave pain free! They help prepare your body for the stresses of everyday life, work, and sport. They train amateur and leisure sports enthusiasts as well as top ranked competitors in ballroom. For more information, please visit their website: https://newagainfitness.com/